Cabrinha Drifter 2016
Wave / Golfrij Kite
4.5m, 5.5m, 7m, 8m, 9m, 11m, 13m
De Cabrinha Drifter is een kite die is gemaakt om de golven te rippen op je waveboard. De kite heeft zoals zijn naam is veel drift, dit zorgt ervoor dat de kite goed blijft hangen op het moment dat jij downwind een golf pakt. Je hoeft de bar niet ver van je af te doen om hem te depoweren zo kan je makkelijk kracht lozen op het moment dat je dat wilt en door de bar aan te trekken krijg je snel die extra kracht op het moment dat dat nodig is om aan de golf te ontsnappen.
Nieuw voor 2016 zijn de afstel mogelijkheden voor aanlandige en aflandige wind. Zo reageert de kite nog beter in de condities waar jij op dat moment mee te maken hebt. De wereldkampioenen in de golven varen op dit moment met de drifter in zowel de mannen als vrouwen divisie. De Drifter is te varen met Cabrinha Overdrive 1X 2016 of de Cabrinha Fixed 1X 2016 Bar.
Eigenschappen:
NIEUW - onshore en offshore tuning opties
Dedicated surf kite
Best Slack Line Drift op de markt
Snel en direct draaien
Haal alle kracht die je nodig hebt, met de mogelijkheid om het te dumpen voor een puur surf gevoel
Verbazingwekkende relaunch
Snelle kite versnelling en vertraging
Ook prima geschikt voor freestyle met een surfboard of skimboard

Rider Profile: Speciaal ontworpen voor het (kite)surfen in de golven en strapless freestyle.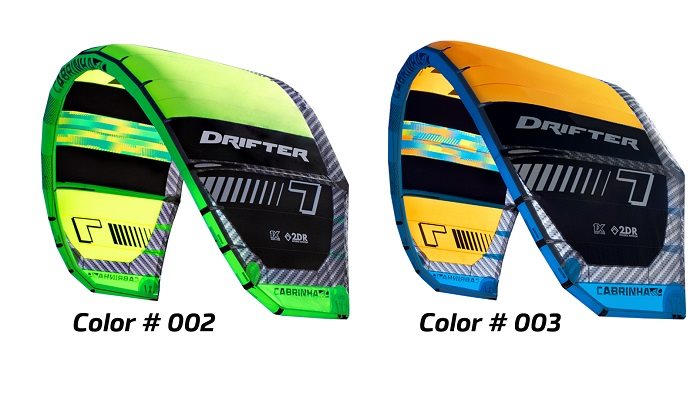 Heb je nog vragen over de Cabrinha Drifter 2016, stel ze aan onze specialist Tom Visser
tom@kitemana.nl